2021 JCSI YOUNG CREATIVES AWARD WINNERS ANNOUNCED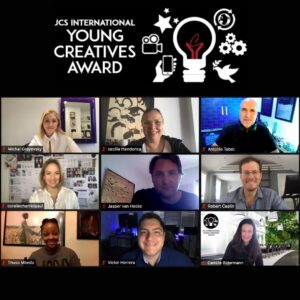 JCS International, a Ronald S. Lauder Company has announced the recipients of the 2021 JCSI Young Creatives Awards. The topic for this year's submission was: "Stand Up for Peace – Women & Men United for Change."
The JCS International Young Creatives Award was established to support and develop young talent across the globe while focusing on continuing a conversation around peace, and was founded by businessman philanthropist, leader Ronald S. Lauder. A former US ambassador to Austria, who has dedicated his life to fighting for peace among people, religions,and countries in the Middle East. The NYC-based JCSI organization is engaged in a wide range of activities and services, including advocacy, policy research, strategic communications and content creation.
"As the world continues to grapple with the turmoil of the worldwide Covid-19 pandemic, we view this year's JCS International Young Creatives Awards theme as especiallycompelling, relevant and close to our hearts. it is JCSI's honor to host the extraordinaryshort films, and award the talented recipients, for their contribution to the exceptional acts of Unity that create meaningful change for people in their everyday lives." says Lauder, recipient of the Directorate Award at the 34th International Emmys in 2006. "This year's winners represent three excellent examples of this worthy theme."
The 2021 recipients are:
Anthills
Sandra Vazquez, Mexico
Have you ever wondered how big cities, projects, associations, and even ant hills were made? It did not require just one individual, but a group that could contribute something meaningful to them. Let's make the change together!
Domestic Peace
Sarath Chandra,  India
Change begins at home. The next generations are watching. Show them Peace.
I Am
Yintao Gong, PR China
A stop motion short that responds to the racism against the Asian community.
Harassment is not a compliment. Women and men need to work together and learn how to make a difference, how to make a change.
The 2021 recipients were selected by a blue-ribbon panel of international jurors comprised of: Michal Grayevsky, president of JCS International, Antonio Tabet, International Emmy® Winner for Comedy, Actor/Producer & Showrunner, Brazil; Jasper Van Hecke, SVP, Acquisitions & Production, Universal Pictures International, UK; Thuso Mbedu, International Emmy® Nominee for Best Performance by an Actress, Actress, South Africa; Cecilia Mendonca, Head of Content Development, Kids, Young Adults and Family, LATAM, The Walt Disney Company, Argentina; Robert Caplin, Photographer, USA; Coralie Charriol , Co-Founder of Non-Profit Organization React to Film, USA and Victor Herrera da Silva, CEO, Nuestra Vision Networks, USA.