2021 INTERNATIONAL EMMY® WINNERS ANNOUNCED AT GALA IN NEW YORK
2021 INTERNATIONAL EMMY® WINNERS ANNOUNCED AT GALA IN NEW YORK
Gala welcoming the JCSI International Young Creatives Award Winner for 2021, 'Anthills'
NEW YORK, November 22, 2021 – The International Academy of Television Arts & Sciences announced the winners of the 49th International Emmy® Awards tonight. Of course, the Black-Tie Gala event had 1,000 television professional attendees from around the world. Additionally, it was hosted by Yvonne Orji and; Vanessa Williams, Method Man & Dirk Nowitzki Among Presenters at the Great Hall of Casa Cipriani in Manhattan.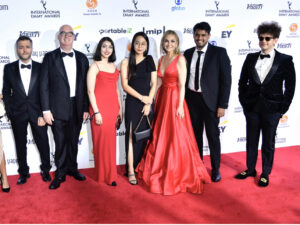 (L-R) Yaron Shalom, Avi Balashnikov, Sandra Vazquez, Yintao Gong, Michal Grayevsky, Sarath Chandra and Shay Grayevsky attend a Gala welcoming the JCSI International Young Creatives Award Winner for 2021, 'Anthills'.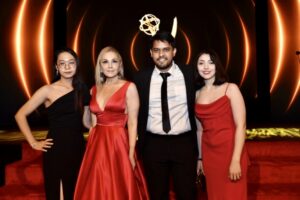 Jcsi President and CEO Michal Grayevsky with the winners of Jcsi 2021 Young creative awards.
Anthills – Sandra Vazquez, Mexico
Have you ever wondered how big cities, projects,
associations, and even ant hills were made? It did
not require just one individual, but a group that could
contribute something meaningful to them. So, let's make
the change together!
Domestic Peace – Sarath Chandra, India
Change begins at home. The next generations are
watching. So, show them Peace.
I Am – Yintao Gong, PR China
A stop motion short that responds to the racism against the Asian community. Therefore, women and men need to work together and learn how to make a difference, how to make a change.
JCSI Young Creatives Award Winners Announced
JCS International has announced the three winners of the 2020 JCSI Young Creatives Award.
The winning short films, selected from twenty three finalists responding to this year's theme:
"Stand Up for Peace –Everyday Heroes in These Troubled Times."  The winners are:
Dear Peace (South Africa)

Devil's Ivy (P.R. China)

Their Mornings (Argentina)
The Backstory:
The JCS International Young Creatives Award fosters young talent from across the globe while stimulating a conversation around peace. Moreover, it was founded by businessman philanthropist, leader Ronald S. Lauder. Additionally, Lauder is a former US ambassador to Austria, and also currently involved in the peace process in the middle east.
In addition, the NYC-based JCS International organization is engaged in a wide range of activities and services, including advocacy, policy research, strategic communications, and content creation.
"In the shadow of the worldwide COVID-19 pandemic, we view this year's JCS International Young Creatives Awards theme, especially relevant and close to our hearts," said Lauder, himself a recipient of the Directorate Award at the 34th International Emmys in 2006. "It is JCSI's honor to host the wonderful short films, and award such talented individuals as a tribute to the exceptional acts of heroism we are witnessing by everyday people in the midst of these unprecedented and defining times. Of course, this year's winners represent three excellent examples of this worthy theme."
"By implementing the Golden Rule, through education and creativity, we can all save lives and defeat this pandemic," said Michal Grayevsky, President and CEO of JCSI, as well as the award creator. " Undoubtedly, JCSI is fostering young creators to be ambassadors for peace, and is advancing the idea of becoming each other's everyday heroes."
Subsequently, the 2020 winners were selected by a blue-ribbon panel of international jurors comprised of: President of JCS International Michal Grayevsky, Emmy winner, actor/producer Yossi Vasa; EVP & General Manager, The Africa Channel, Emmy winning Actress Marina Gera, Head of General Entertainment Production, Disney Latin America Mariana Perez, Emmy Winner, Activist & Dancer Ahmad Joudeh, Director RAI Kids Channel Luca Milano, and Senior Director Business Affairs Fujisankei Communications Michael Schelp.
Information about the winners, and film summaries:
Dear Peace
By: Raphadu Maphoto

Country: South Africa

Summary: The narrative revolves around a young boy who reflects on what peace means to him. The project is centered around the importance of teaching the younger generations about peace. Additionally, it shows how it positively impacts society as a whole. The youth plays a pivotal role in shaping the world that we live in. Therefore, in these troubled times, the value of peace increases as it is a commodity.
Devil's Ivy
By: Wa Liu

Country: P.R. China

Summary: Devil's Ivy is a short film. It is based on the challenges and opportunities for peacemaking in the time of the COVID-19 pandemic. As the invisible coronavirus speeds across the globe, it reveals issues embedded in our society long before the contagion. However, quarantine has also made us cherish the warmth of family bonds and mutual cooperation across nations. After all, resilience and compassion are the foundation of our humanity.
Their Mornings
By: Mateo Auad

Country: Argentina

Summary: This short film is a loving tribute dedicated to those people who courageously face the global pandemic and try to heal this world. This includes fighting from the front line or supporting those brave, almost anonymous, heroes.
To view the winning videos, click on the link below:
https://www.iemmys.tv/international-emmy-awards/other-awards/jcs-international-young-creatives-award/
A Rosh Hashanah Letter From JCSI
Dear friends and colleagues,
As we prepare to celebrate Rosh Hashanah, the Jewish New Year, we wanted to take a moment to share our heartfelt hopes and wishes for the year ahead, while acknowledging our gratitude for having the privilege to celebrate in good health.
This past year has brought more than its fair share of turmoil and uncertainties. But, these challenges also revealed the best in so many of us.  People came together, sometimes at great personal risk, to help others in need.  And, of course, we ended the year on a high note, with a historic peace accord between Israel, The United Arab Emirates and Bahrain.  May all of humanity go from strengths to strengths. 
Although we are unable to congregate for Rosh Hashanah this weekend,we nonetheless look forward to the coming days, weeks, and months with excitement, fueled by the hope that the pain of 5780 will be replaced by health, prosperity, and positivity in 5781.
Wishing peace upon you, and upon all your loved ones.
To a good and sweet year!
Former Young Creatives Award Winners Reminder: Submissions Are Now Open For 2020 Awards
JCSI, a Ronald S. Lauder company, has teamed up with the winners from the 2019 Young Creatives Awards. Subsequently, this will encourage people to submit videos for this year's competition. Of course, this year's theme is "Stand Up for Peace – Everyday Heroes in These Troubled Times" and international creatives ages 18-29 are encouraged to submit a one-minute film for submission.  Additionally, anyone interested in submitting an entry can get more information here.  In addition, you can view the three informational videos below!
Artes Ferruni – Albania
Funke Alafiatayo – United Kingdom
Breech Asher Harani – Philippines
Call for JCSI Video Entries For The Young Creatives Award!
The International Emmy's and JCSI, a Ronald S. Lauder company, are proud to announce the opening of this year's Young Creatives Award! Calling on all international creatives ages 18-29 to enter. Submit your 1 minute video on the theme " Stand Up for Peace – Everyday Heroes in These Troubled Times." Click here to enter now!
JCSI Young Creatives Award Winners Announced
JCSI Young Creatives Award Winners Announced
NEW YORK, Oct. 16, 2019 /PRNewswire/ — JCS International has announced the three winners of the 2019 JCSI Young Creatives Award. Accordingly, the winning short films were selected from 26 finalists responding to this year's theme "Stand Up for Peace," are Next To Me (Philippines), It Starts Within (Albania) and P.E.A.C.E. – A Spoken Word (United Kingdom).
The JCS International Young Creatives Award fosters young talent across the globe while sparking a conversation around peace. JCS International was founded by the business and philanthropic leader Ronald S. Lauder. To add, the New York City-based organization engages in a wide range of activities and services. For example, this includes advocacy, policy research, strategic communications and content creation.
Consequently, "We view the JCS International Young Creatives Award as an especially powerful way to promote peace through art," says Lauder, himself a recipient of the Directorate Award at the 34th International Emmys in 2006. Of course,"This year's winners represent three excellent examples of that vision."
2019 Winners
Of course, the 2019 winners were selected by a blue-ribbon panel of international jurors comprised of Michal Grayevsky, chairman of the jury, president of JCS International and founder of Young Creative Awards; Amanda Nguyen, founder and CEO, Rise; Fred Graver, consultant; Anne Bahr Thompson, managing director of philanthropy, Synergos; Lisa Azuelos, film producer and director; Devin Woods, program manager, Big Bad Boo; Alvaro Pereira, television journalist, and Oliver Mahrdt, film and festival producer.
Subsequently, the three winners fly to New York to receive their award on Saturday, November 23, at the International Emmy World Television Festival. In conclusion, the International Emmy Awards Gala will occur on Monday, November 25th.
Information about the winners:
Next To Me
By: Breech Asher Harani
Country: Philippines
Summary: After the Battle of Marawi in the Philippines in 2017, many Muslims migrated from Marawi to Mindanao. Uprooted children were forced to transfer schools, where they were bullied and discriminated against, especially in non-Muslim communities.
It Starts Within
By: Artes Ferruni
Country: Albania
Summary: With all the world's problems, it can sometimes feel overwhelming to make a stand for peace. Where does one even start? This film explores a simple yet crucial answer to that question. So, peace comes from within—and only from there can broader peace emerge.
P.E.A.C.E. – A Spoken Word
By: Funke Alafiatayo
Country: United Kingdom
Summary: Written and performed by Funke Alafiatayo, this spoken word film challenges the audience to think what it would be like if each of us took one minute to stand up for peace.
Contact: community@mg745fifth.com
Related Links
https://www.jcs-international.org
All images courtesy of Noa Grayevsky
JCSI's Michal Grayevsky Appointed As a Senior Advisor to the FEHSF
JCSI's Michal Grayevsky Appointed As a Senior Advisor to the FEHSF
MAY 23, 2019 – The Federal Enforcement Homeland Security Foundation (FEHSF) proudly welcomes Michal Grayevsky as a Senior Advisor. Michal Grayevsky is a well known senior media executive, communications strategist, and former investigative reporter with over 30 years of experience at the intersection of politics, business, diplomacy and media.
Ms. Grayevsky is a senior adviser to Ronald S. Lauder, providing guidance and strategy on his media relationships and all organizational communications. Since 2010, she has also served as President of JCS International (JCSI), a global media company headquartered in New York.
Before joining JCSI, she was Deputy Chairman of the Board of Channel 10, Israel's second largest television channel and, as Chair of the Board's Finance Committee, was instrumental in saving the network from closure. She also served as Chairman of Nana 10, a major Internet news company, as well as a Board Member of News Company.
Before it began:
Before her career as a media executive and international strategic media adviser, Ms. Grayevsky was a journalist for over two decades with Yedioth Ahronoth, the most widely-read and influential daily newspaper in Israel. Her investigative reporting exposed sweeping public corruption and spurred major political and human rights reforms. In fact, she was the first journalist in Israel to reveal sexual harassment by men in positions of power, long before the #metoomovement began.
Grayevsky is very active philanthropically. She serves on the Board of Directors of the UN Women for Peace Association and the International Academy of Arts and Sciences. Grayevsky spearheaded the creation of the International Emmy's Young Creatives Award and serves as Chair of the Award's Judges Panel. She also serves on the Advisory Board of the RAND Corporation's Center for Middle East Public Policy. Additionally, she serves on the International Steering Committee of Limmud FSU. She is a major supporter of the Federal Enforcement Homeland Security Foundation. Grayevsky is the Deputy Chairman of the Lauder Employment Center in Israel. Additionally, she regularly utilizes her media expertise to further the missions of all of these organizations.
Grayevsky has a Master's degree in Mass Media and is a graduate of Harvard Business School's AMP.
Bulgaria Confers Highest State Honor on WJC President Ronald Lauder
Bulgaria confers highest state honour on WJC President Ronald Lauder
Bulgaria has conferred on Ronald S Lauder, President of the World Jewish Congress, its highest state honour, the Stara Planina first degree.
The award celebrates Lauder's extraordinary dedication to the development and strengthening of friendly relations between the global Jewish community and Bulgarian state institutions, civil society, and the local Jewish community. It is also for his contribution to the development of education in Bulgaria.
The honor was handed over by head of state President Roumen Radev. This was on the day that Bulgaria commemorated the 76th anniversary of the rescue of the Bulgarian Jews from being murdered in the death camps of the Holocaust.
Radev said that the joint initiatives of the World Jewish Congress and the Organization of the Jews in Bulgaria Shalom contributed to increasing intolerance and opposition to xenophobia and discrimination. It also increases better co-operation with the Bulgarian institutions for action against antisemitism and hate speech.
"The rescue of the Bulgarian Jews is not only a historical event. It is an inspiring example for today and tomorrow," he said.
Lauder praised the Bulgarian people for standing up to the Nazis during the Second World War. Additionally, he praised them now against the rise of neo-Nazis.
"Once again today, you showed the entire world that courage, moral clarity, and decency begin right here in Sofia," he said. This was in reference to the "Together for Bulgaria, Together for Bulgaria" event.
"Once again, the Bulgarian people, along with their leaders have stood together and said: 'We will not tolerate antisemitism or hatred of any kind.' President Radev and Prime Minister [Boiko] Borissov have been so responsive to any kind of anti-Jewish hatred, setting an example for all world leaders. The World Jewish Congress thanks you for your outspoken clarity."
Lauder's Approval
Lauder also thanked the many NGOs from across Bulgarian civil society. They have also pledged to sign the Memorandum to Fight Hate speech in Bulgaria. Additionally, they said, "I think it is very clear where the future lies. It lies with tolerance, good neighbours, and everyone working together to build a better world for our children.
"Hate will not be part of our future. Intolerance will not be part of it. Bulgaria reminds us that we must never be silent in the face of evil. It also reminds us that it takes courage to stand up to evil. Bulgaria reminds us that even a small country can tower over all others. Let the world use Bulgaria as its model."
In the evening, Lauder was among guests and speakers at a commemoration ceremony at Sofia Central Synagogue.
Speeches were delivered by Sofia Cohen, who is President of the Central Israelite Religious Council of Bulgaria. Also speaking was Deputy Foreign Minister Georg Georgiev, who is Bulgaria's National Co-ordinator against Antisemitism. Additionally, Maxim Benvenisti of Shalom's Tzedaka Foundation, who introduced the history of those ordinary Bulgarians who participated in the rescue of the Bulgarian Jews, spoke.
Shalom
Shalom conferred its highest honor, the Shofar award, on Georgiev and on US ambassador Eric Rubin and Israeli ambassador Irit Lilian.
It furthered its campaign to build a partnership network with NGOs. They commit to a society without division, intolerance and hate speech. Also, they signed a memorandum of co-operation with 10 NGOs at the ceremony. This was a sequel to the signing of the memorandum in February with the GLAS Foundation.
The memorandum was signed with 10 NGOs. They are the Association of European Journalists Bulgaria, the Association of Families for Partnership in Psychiatry, the Bulgarian Fund for Women, the Bulgarian Helsinki Committee, Jamba – an organization that connects people with diverse abilities to employers – the National Foster Care Association, the Bilitis Foundation, Marginalia, the Movement of Bulgarian Mothers, and Maiko Mila, a support website for mothers.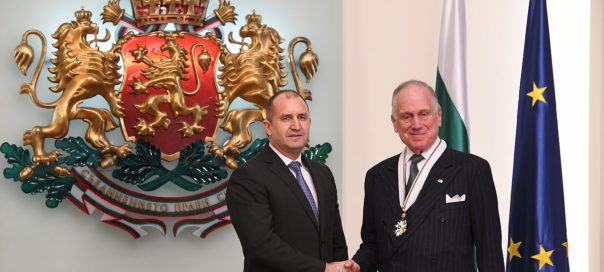 Article and photos originally posted on The Sofia Globe
UN Women for Peace Celebrates International Women's Day
UN Women for Peace Celebrates International Women's Day
Diverse Leaders Empowering Women and Girls Lauded at Luncheon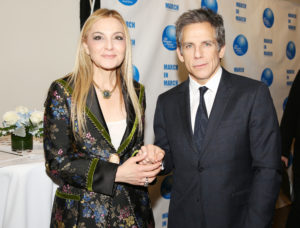 New York City, New York (Friday, March 1, 2019) – UN Women for Peace Association's (UNWFPA) Annual Awards Luncheon, in celebration of International Women's Day, was held on Friday, March 1st at the United Nations Headquarters.
This year, UNWFPA honored five distinguished individuals: actor, writer, and activist Ben Stiller (UNWFPA Advocacy Award), fashion designer Naeem Khan (Women's Empowerment Award), philanthropists Albert and Deidre Pujols (Humanitarian Award), and Think Equal Founder and CEO Leslee Udwin (Activism in Arts and Education Award).
Additionally, Stephanie Winston Wolkoff presented the "Changemakers and Educators Award" to Marc Brackett, Ph.D and Robin Stern, Ph.D. from the Center for Emotional Intelligence at Yale University for their work in integrating social and emotional well-being into schools, families and communities. Winston Wolkoff, Brackett and Stern also announced that they would be launching the Social Emotional Learning program with UNWFPA and Facebook Education.
The Luncheon Chairs were Ray Kelly (CEO of Guardian Group and former NYC Police Commissioner) and Alice M. Tisch (The Alice M. and Thomas J. Tisch Foundation). Additionally, for a second year in a row, Young Host Committee Chair was Andrea J. Catsimatidis.
UNWFPA's President, Barbara Winston thanked all involved. She then declared, "We dream of a world in which all are prosperous, who can take good care of their children and in which there is no war." She also said, "We need to promote the intersection of humanity with technology with the decisions only people you can provide. The United Nations Women for Peace Association has a mission to educate, to advance and champion giving a voice and platform to the empowerment of women and girls."
The Message
"If we are to achieve lasting peace," stated Leslee Udwin, "we are simply going to have begin with the children." She elaborated, "Not one of us is is born discriminating against another based on race, religion, gender, sexual preference, or any other factor. We are taught to discriminate, as we are instructed in the ways of the world. [Think Equal] teaches empathy, emotional intelligence, gender equality, critical thinking, inclusion, peaceful conflict resolution. It teaches all these values, competences and skills from the ages of three until six."
Additionally, she said, "I'm grateful to the UN Women for Peace Association. Or, as I look to call it, UN-WOOF-PAH, for this incredible honor," joked Ben Stiller. "I stand before you as the son of a mother, and the father of a daughter…I, like all men, owe my existence to women. These two women have had an incredible experience on me. One nurtured me, fed me, and taught me simple tasks like tieing my shoes. How my teenage daughter found the time to do these things while going to high school is a testament to her strength and patience. In reality, my mother was the most important voice in my life."
Continued..
Naeem Khan said, "Fashion has a lot to do with change in the world. There are a lot of problems in the fashion world. For example, discrimination to hiring children to working in Bangladesh are some. How can a designer make change? I think with me, going to Guatemala, Honduras, or India. I might not be the biggest business, but I think I have the platform that I can teach these people and give them what I have learned through my life in America and see how I can uplift their lives."
Additionally, Deidre Pujols said, "When I learned that we were going to be receiving this award, there was just no way that I was just going to have Albert [Pujols] and I here because there are people people working around the world tirelessly against injustices, and that is Table number Four for us. They are part of Strikeout Slavery. These are some of the most incredible people. I celebrate this award and share it with them."
Also, Robin Stern said, "Together, we will work together to change the woes of women and girls forever. Let today mark the beginning of our journey." Dr. Marc Brackett asked, "Take a moment to think – how are you all feeling today?" He then elaborated on the importance of recognizing emotions and regulating them.
"Were we all inspired today?" concluded Barbara Winston. "Let's all get together and do some work together!"
Of course, this was a great end to the evening.
Background
UNWFPA's full Board of Directors is Dame Muna Rihani Al-Nasser (Founder and Chair), Barbara Winston (President), Rema DuPont (Vice President), Michal Grayevsky (Treasurer), Valbona Neritani, and Stephanie Winston Wolkoff.
At the Luncheon, the Ambassadors for Peace included a variety of notable individuals, Sheikha Rima Al-Saba, H.R.H. Princess Camilla of Bourbon Two Sicilies, Duchess of Castro, First Lady of Panama Lorena Castillo Garcia De Varela, Ambassador Ronald S. Lauder, Bushra Khayat Jomaa and Eugenio Lopez Alonso.
The UNWFPA Committee of Honor is Ambassador Nassir Abdulaziz Al-Nasser, Kate Beckinsale, Ambassador Daniele Bodini, Geoffrey Bradfield, H.E. Mary Elizabeth Flores Flake, Deborra-Lee Furness, Ashley Graham, Heather Graham, Kat Graham, Karolína Kurková, Debra Messing, Ambassador Adrian Neritani, Laurice Rahmé, Kelly Rutherford, and Sir Patrick Stewart OBE. 
UN Women for Peace Association, founded in 2008 under the patronage of H.E. Mrs. Ban Soon-taek, raises awareness of the terrible crimes against women and girls. Additionally, UNWFPA promotes and advances the goals of UN agencies who provide opportunities for women through social, cultural, educational, and empowerment programs under the banner of a global peace building process. Subsequently, these proceeds go directly to the UN Trust Fund to End Violence Against Women, which aims to prevent violence against women and girls, provides services and programs to those affected by violence, and strengthens the implementation of laws and policies on such violence. Of course, these are all extremely important goals.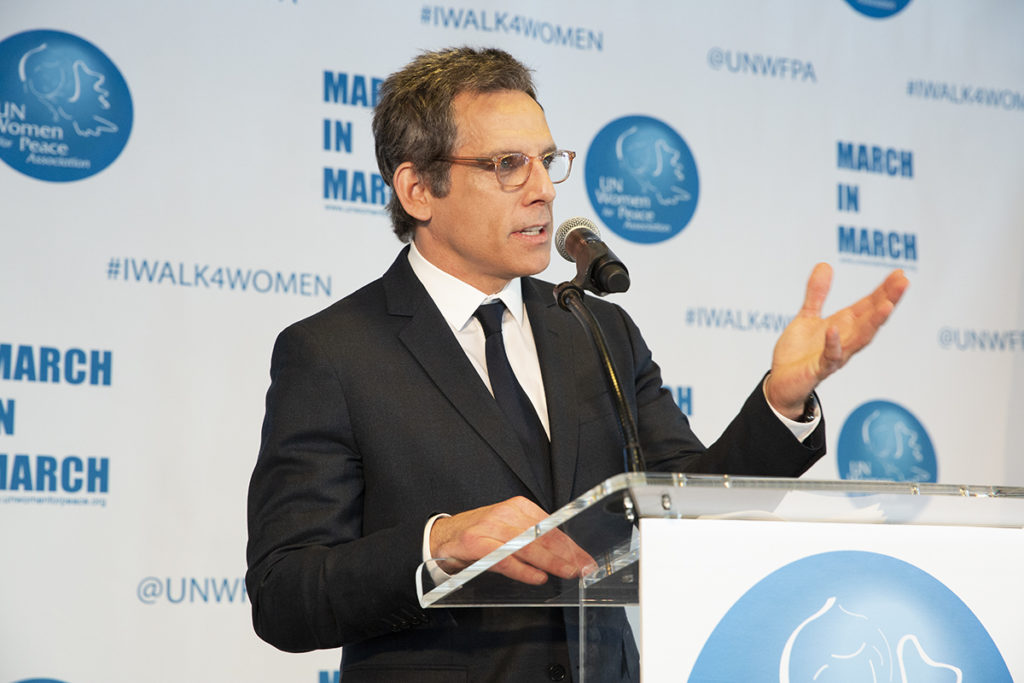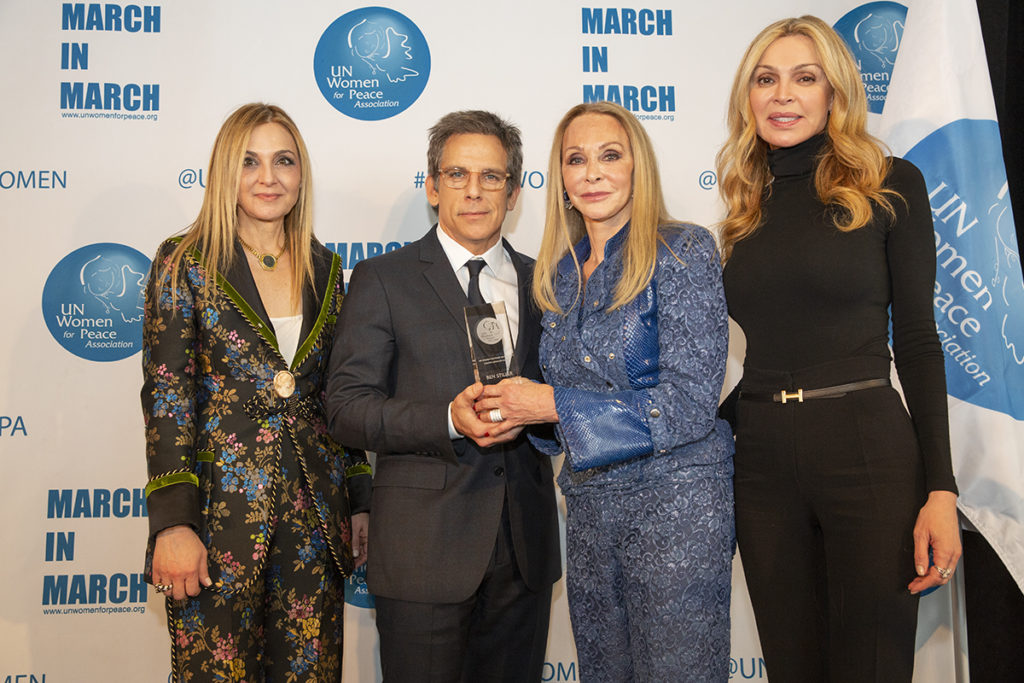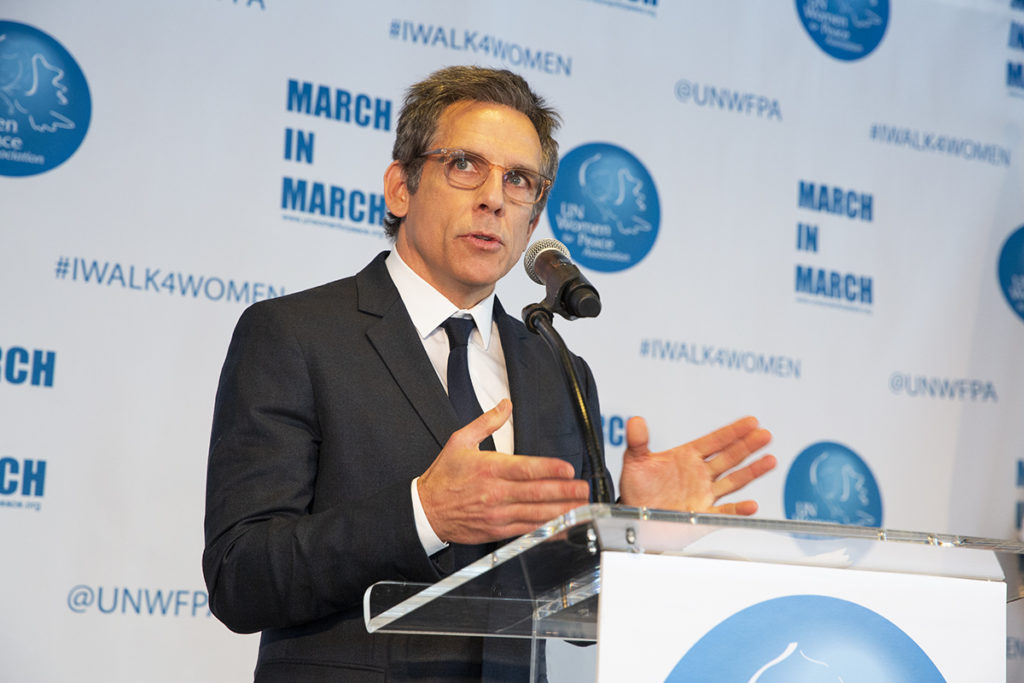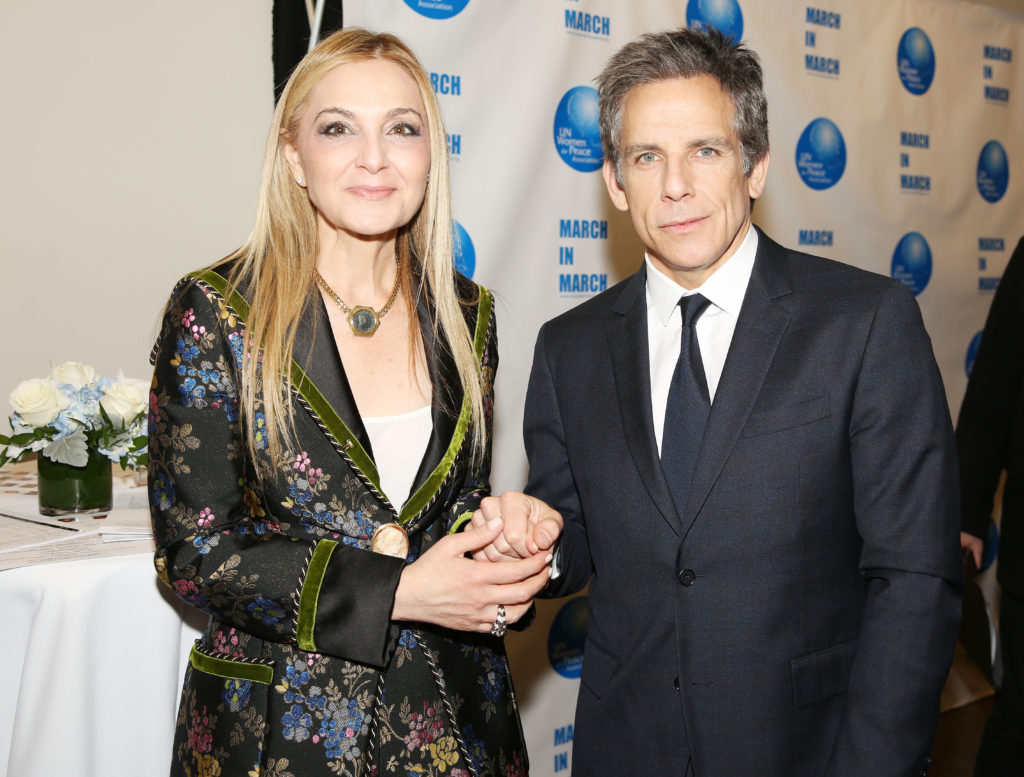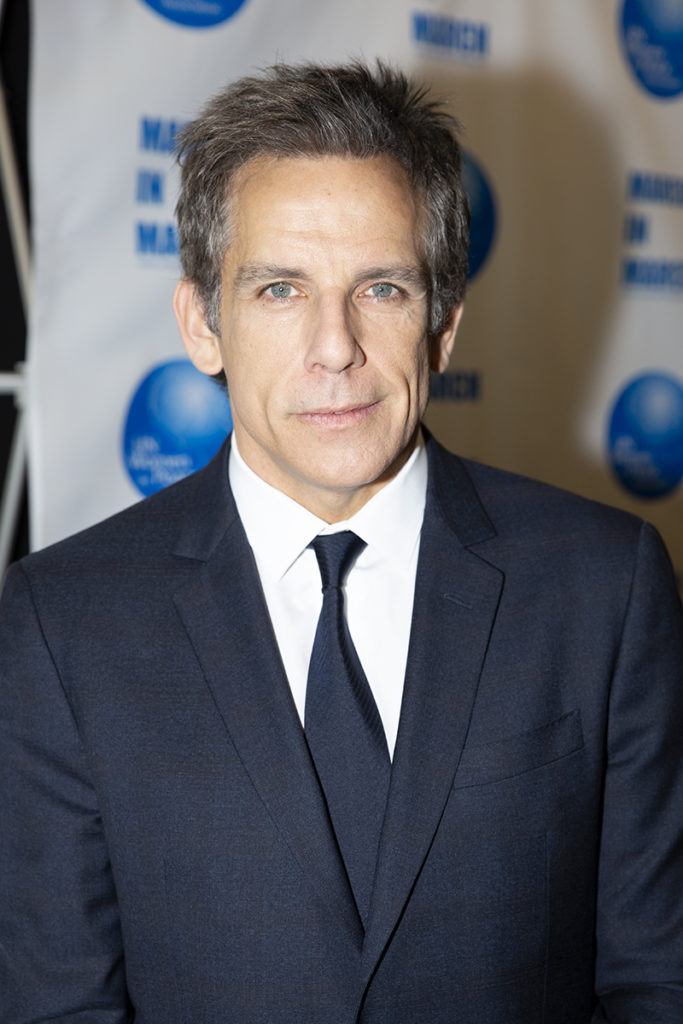 All photos courtesy Noa Grayevsky
Albert Pujols' MLB-sponsored 'Strike Out Slavery' campaign spotlights fight against human trafficking
Albert Pujols' MLB-sponsored 'Strike Out Slavery' campaign spotlights fight against human trafficking
Pujols and his wife Deidre received an award from the United Nations for their efforts
UNITED NATIONS — "The fight against modern slavery reaches the Big League," the campaign page reads.
On Friday, Strike out Slavery, the anti-human trafficking group founded by baseball legend Albert Pujols and Deidre, his wife, received the U.N. Women for Peace Association (UNWFPA) Humanitarian Award at U.N. Headquarters in New York.
Rema DuPont, a UNWFPA board member, presented the award to the Los Angeles Angels' first baseman and his wife, who have devoted themselves to fighting human trafficking not only in the United States but worldwide.
Albert Pujols, who had already begun spring training with the Angels in Arizona, said he came to New York for the award and will return right away, adding "gracias a Dios," (thank God) he is better from his injuries.
Barbara Winston, the UNWFPA president, said, "It's because of these high profile people … [human trafficking awareness is] beginning to get traction."
Albert, Deidre and the representatives of Major League Baseball spoke with CBS News Radio for a segment produced by Jonathan Clark and Christopher Buckley on what the duo are doing to shine a spotlight on modern slavery.
"It's a home run," said Albert.
Both Major League Baseball and the Major League Baseball Players Association have been supportive. "We created Strike Out Slavery to increase awareness by players, fans and the general public," Albert said.
The Narrative Behind Human Trafficking
For Deirdre, human trafficking goes beyond the traditional umbrella definition for the "act of recruiting, harboring, transporting, providing or obtaining a person for compelled labor or commercial sex acts through the use of force, fraud or coercion, under the U.S. Trafficking Victims Protection Act."
To her, it also includes the desperate prostitutes she encountered hustling near Angel Stadium in Anaheim, California. That experience caused her to say "enough."
She told the audience filled with stars of film, design and sports — as well as dozens of diplomats — that she and Albert have been working on this issue for 19 years. They decided to formalize their efforts two years ago with the non-profit.
Former NYC Police Commissioner Ray Kelly, CEO of Guardian Group and one of the event chairs, explained the situation.
"It's more complex than people think; it's not just a question of force." He said that there are all sorts of pressures that enslave these victims.
"They have become passionate about raising awareness about human trafficking," said Leonor Colon, MLB director of player operations. "To hear their passion about the cause was extremely inspiring. This is a topic that has affected our baseball family. Hearing the players speak about how they want to use their voice for those who do not have one was something that touched us."
Funding the Solution
This month, MLB and the MLBPA jointly announced that they would contribute $500,000 through 2021 toward anti-trafficking non-profits. This includes Strike Out Slavery, which is dedicated to fighting human trafficking.
"Baseball has put this at the forefront of some of the work we've been doing on a charitable stage," said Melanie LaGrande, MLB's vice president of social responsibility.
With almost a dozen global partners, Strike Out Slavery has enlisted 
MLB teams
 and stadiums for exhibition games and concerts, including a recent performance by singer-songwriter 
Nick Jonas
.
"It's a home run for everybody," Albert Pujols said on CBS News Radio, "and it's an honor for everybody. If you are talking about 2017, we started with one stadium, and now we have four, maybe five this year. It is an honor and we are blessed to have accomplished what we accomplished. Our goal is to have all 30 ball clubs."
It started with the Angel Stadium in 2017. Nationals Park jumped on board in 2018. "This year, we'll be with the New York Mets and the Kansas City Royals … where I am from," Deidre Puols said.
Last September, the Pujolses sponsored an evening event in Anaheim with a fireworks-lit-sky over Angel Stadium to shine a light, as they said, on the growing problem of sex trafficking around the world..
"Not in Our Ballpark" is the anthem of baseball's fight
Human trafficking numbers are higher than ever before, Strike Out Slavery says, with 46 million victims worldwide. It is on the rise in the U.S. and "the fastest-growing criminal industry in the world, generating $150 billion annually."
Survivors of human trafficking visit stadiums to speak with baseball fans and the community at the event.
Fashion icon Naeem Khan spoke about the impact of Strike Out Slavery. "The organization brings it to light. They are so involved getting the information out there. We are now becoming the ambassadors for this issue."
Khan attended the UN event to receive an award for women's empowerment.
Ben Stiller was also at the event to receive an advocacy award.
Human trafficking in the stadium lights
Albert and Deidre Pujols have been tireless in their effort to recruit MLB teams.
"My hope is that people will understand that what we're trying to do is create an atmosphere in a baseball stadium that will allow people to get educated about human trafficking," Deidre said. "It's alarming how many people still often say, 'Whoa, I didn't know this was happening [in the U.S.].'"
She said that Albert, three-time National League most valuable player, had done work to help his native Dominican Republic. However, the issue of human trafficking was new to both of them and they felt they had to make a contribution.
Taking Action
They ran two concerts in Anaheim and one at Nationals Park in Washington, D.C. with plans in 2019 for events at Angel Stadium, Citi Field, Kauffman Stadium and Nationals Park. The hope is to have a concert in all 30 MLB ballparks in the future. Deidre is hoping for five teams this year. The concerts have been funded by the Pujolses personally with the teams partnering in the event.
"Professional sports is often a place where human trafficking happens," Deidre said. "I'm not saying it happens all the time, and I'm not saying it happens in every stadium, but it does happen with professional sports and in sporting stadiums, and I had an encounter myself to prove that."
In almost two decades in baseball, Deidre told CBS News Radio she had never had an encounter like the aforementioned one before. On Strike Out Slavery Day last year at Nationals Park, she was ordering a drink and spotted a group of girls in their early 20s interacting with the crowd about a gentleman's club. She spent about 25 minutes with them and tried to discuss what they were doing. "This is why we have to get people educated," Deidre said.
"It's about keeping people safe"
At the U.N., there is a heightened awareness of the importance of educating young people about the risk of trafficking. A U.N. report published in January warns "the number of human trafficking victims is on the rise" as criminal gangs and terror groups prey increasingly on women and children to make money and bolster their numbers. The 90-page "Global Trafficking in Persons" report says that children, who account for 30 percent of all trafficking victims, include "far more" girls than boys. Sexual exploitation is the main motivation for the trafficking, the report says, accounting for about 59 percent.
Last year, Washington Nationals pitcher Stephen Strasburg joined the foundation's efforts as an ambassador. Asked if Deidre had a wish list of players she wanted to recruit as ambassadors, she said she hoped for more "in a heartbeat."
Deidre hopes to join Albert at spring training in Arizona this year, and she may go to Florida after that. This is where the MLBPA comes into play to help her seek players to join the effort.
Getting the information to the public through sports is "more than a home run," said a diplomat attending the event. "They hit it out of the ballpark."
Article written by Pamela Falk and originally published on CBS Sports.