2021 INTERNATIONAL EMMY® WINNERS ANNOUNCED AT GALA IN NEW YORK
Gala welcoming the JCSI International Young Creatives Award Winner for 2021, 'Anthills'
NEW YORK, November 22, 2021 – The International Academy of Television Arts & Sciences announced the winners of the 49th International Emmy® Awards tonight. Of course, the Black-Tie Gala event had 1,000 television professional attendees from around the world. Additionally, it was hosted by Yvonne Orji and; Vanessa Williams, Method Man & Dirk Nowitzki Among Presenters at the Great Hall of Casa Cipriani in Manhattan.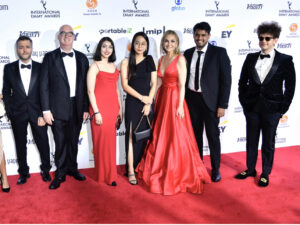 (L-R) Yaron Shalom, Avi Balashnikov, Sandra Vazquez, Yintao Gong, Michal Grayevsky, Sarath Chandra and Shay Grayevsky attend a Gala welcoming the JCSI International Young Creatives Award Winner for 2021, 'Anthills'.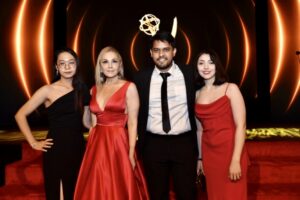 Jcsi President and CEO Michal Grayevsky with the winners of Jcsi 2021 Young creative awards.
Anthills – Sandra Vazquez, Mexico
Have you ever wondered how big cities, projects,
associations, and even ant hills were made? It did
not require just one individual, but a group that could
contribute something meaningful to them. So, let's make
the change together!
Domestic Peace – Sarath Chandra, India
Change begins at home. The next generations are
watching. So, show them Peace.
I Am – Yintao Gong, PR China
A stop motion short that responds to the racism against the Asian community. Therefore, women and men need to work together and learn how to make a difference, how to make a change.