WJC pres. Lauder addresses Global Investment Forum: Arabs, Jews want peace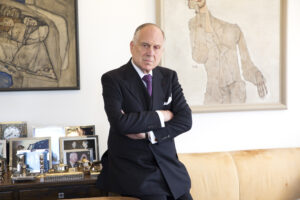 WJC pres. Lauder addresses Global Investment Forum: Arabs, Jews want peace/
jerusalem Post
"
The Abraham Accords changed our language and the entire terrain of the Middle East for the better." In a pre-recorded video address, Ronald Lauder, president of the World Jewish Congress, hailed the significance of the landmark agreement and the Jerusalem Post-Khaleej Times event in Dubai, suggesting that just a short time ago, the very idea of a joint conference of this type being held in Dubai would have been considered an impossibility. "This was something that Arabs and Jews could only dream of in the past, but now it is a reality," said Lauder.
Lauder noted that the Global Investment Forum was a timely event in light of the recent violence in the Middle East, given "the trauma that both Israelis and Palestinians have suffered over the past few weeks." 
Lauder said that the vast majority of Arabs and Jews in the Middle East want to live in peace, noting that their priorities are in providing a safer world, better education, and improved economic opportunities for their children. 
Achieving these goals, he said, cannot be accomplished through retaliation and conflict. "It can only come from peace and harmony between nations."
In his travels throughout the Middle East, said Lauder, he has learned that most people have the same concerns, hopes, and fears. "The greatest investment that we can make is in education and technology," he said, stating that education should be a joint venture between Israel and the Arab countries. Lauder suggested that Jews and Arabs should learn about the history and culture of both peoples and sit together in classrooms and universities. "Let the Middle East be known not for conflict but for technology and creativity," he added. "This will only happen with partnerships with Israel."
Lauder lauded Forum attendees, calling them "bridge builders" and people "who understand that salaam and shalom have the same meaning and carry the same message – one of hope, and not fear. He encouraged people throughout the region to maintain an honest and open dialogue with each other and that through those efforts, they can gain a greater understanding of each other.  He added that the building of a Jewish school in Dubai furthers the bold and inclusive steps that the UAE is taking as a leader in the cause of peace. 
"After everything," said Lauder, "I continue to hope and work for a two-state solution for the Palestinians and Israelis so that future generations will no longer live in fear and mistrust.  I know one simple fact – neighbors living productively together in dignity, peace, and prosperity is better than any alternative."
Lauder concluded his remarks by stating that Israelis and Emiratis can accomplish a great deal together in times of friendship and peace, Lauder noted. "All of us involved in this conference have to work against the agents of pessimism. I am an optimist."
https://m.jpost.com/j-spot/wjc-pres-lauder-addresses-global-investment-forum-arabs-jews-want-peace-669836
Holocaust Remembrance Day: We can't let our past be our children's future
When the sirens go off and you all stand there in silence, please think about the past. But, also think about the future and what our children will face.
"We cannot let our past become our children's future." These words were spoken by Roman Kent, an Auschwitz survivor on the 70th anniversary of the liberation of the death camp. These words are still ringing in my ears. I think about them all the time and they have guided me over the past six years, since I stood at the those terrible gates – gates that saw over one-million Jewish mothers, fathers and so, so many children pass through them. They went into the camp, but they never came out.
Five years after Roman Kent spoke those words, I brought 120 survivors and their families to the same gates for the 75th anniversary of the liberation by the Red Army. For many of them, it was their first time back since those terrible days. For many, it will probably be their last visit. 
I was astounded to see their strength as we walked through the camp with their families. I also saw the pain in the faces of their children and grandchildren, who finally understood what they had experienced.
In my keynote address to them at those infamous gates, I talked about what it meant to have these survivors with us and what it meant to me personally. But also present were European leaders and dignitaries from more than 50 countries and I told them directly that they must do everything in their power to make sure that the rise in hatred that we are seeing, must be stopped in their countries. The continent of Europe owes this to the Jewish people.
Since that day, now more than a year and two months ago, I have stayed in touch with them. Sadly, we have already lost ten of them. This past Pesach, we held a Zoom meeting and they told me something that touched me to my core. They said they understood the Pesach story better than most people, because they were slaves themselves. And, perhaps most importantly, they were delivered to freedom.
They knew first hand what freedom meant in a way people would never understand from a Hagadah. They didn't have a Moses to lead them out from that terrible place of death and disease. But they knew they had G-d and it was the same G-d that brought the Jews out of Egypt that brought them out of Auschwitz.
They made a request to me. They asked that people remember their story on Yom Hashoah for all the survivors around the world and for those who did not survive – for those whose voices are still and cannot be heard.
We have all watched a frightening rise in anti-Semitism around the world over this past year. It comes from the Right … and from the Left. It has come in every country. Some of it looks like the same hatred of Jews these people saw in the 1930s and 40s. Some of it is new.
The World Jewish Congress and other Jewish organizations have been fighting this new wave of hatred as best we can. But we cannot do it alone.
We need the help of all people around the world and particularly the help of the people in Israel. When the sirens go off and you all stand there in silence, please think about the past. But, also think about the future and what our children will face in the world that is coming. 
I promised Roman Kent more than six years ago and the survivors at just last year that I would not forget.
I believe this is the duty of every Jew everywhere – in Israel and in the Diaspora, in large countries and small, in cities and small towns – that we not just remember, but we do everything in our power to make sure that their past will not be all of our children's futures.
Former Young Creatives Award Winners Reminder: Submissions Are Now Open For 2020 Awards
JCSI, a Ronald S. Lauder company, has teamed up with the winners from the 2019 Young Creatives Awards, to encourage people to submit videos for this year's competition.  This year's theme is "Stand Up for Peace – Everyday Heroes in These Troubled Times."  International creatives ages 18-29 are encouraged to submit a one-minute film for submission.  Anyone interested in submitting an entry can get more information here and you can view the three informational videos below!
Artes Ferruni – Albania
Funke Alafiatayo – United Kingdom
Breech Asher Harani – Philippines